Take control of wireless with Profit Recovery's comprehensive wireless-centric portfolio. We will be right alongside you as the world of wireless and the definition of mobility continues to evolve. Mobility Management is integrated with the core TEM application and is available as a self-managed, managed service or outsourced deployment in a bundled or a la carte configuration.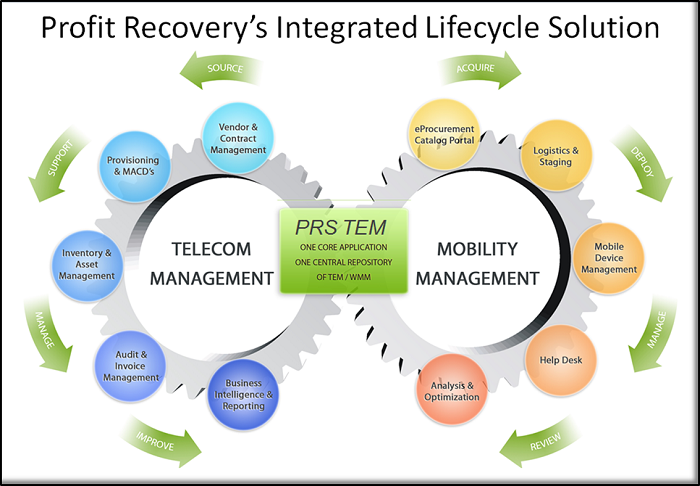 The components of the Profit Recovery Mobility Management solution include:
eProcurement Catalog
The Catalog supports all Telecom service types but is especially valued in Mobile services as an end-user portal – "shopping cart" – of the company's authorized devices, accessories and plans in support of orders, replacements and upgrades. The Catalog is configured uniquely for each client with a corresponding workflow for review and approval including the fulfillment of the request.
Logistics & Staging
Our "kitting" solution includes all of the activities around asset tagging, pre-loading of designated applications or directories as well as the detailing of the device with accessories.
Mobile Device Management
The Gartner Magic Quadrant of 2012 references: "Enterprise Mobile Device Management software is primarily a policy and configuration management tool for mobile handheld devices, such as smartphones and tablets based on smartphone OSs. It helps enterprises manage the transition to a more complex mobile computing and communications environment by supporting security, network services, and software and hardware management across multiple OS platforms. This is especially important as bring your own device (BYOD) initiatives become the focus of many enterprises. It can support corporate-owned as well as personal devices, and helps support a more complex and heterogeneous environment."
Help Desk
The Profit Recovery Mobile Help Desk provides support for phones, PDA's, tablets, notebooks, air cards, and mobile hotspot devices. This includes hardware & software support for Android, iOS, Blackberry, and Windows Mobile including device activation, portability, set-up and technical assistance as well as a spares/parts/loaner program.
Plan Management/Optimization
Ensuring that all users and devices are on the most optimal plans, pools, services and provider, and leveraging the mobile enterprise as a whole is the driving strategy behind this service. Our patented application, powered by Asentinel 8.0, delivers the analytics; our experienced and savvy specialists interpret and implement the metrics into valuable and actionable recommendations.