What's hidden in your organization's telecom bills?
Between 7 and 12 percent of telecom service charges are in error, costing large enterprises more than $8 million in lost profits annually.
Aberdeen Group
80% of enterprises will overspend on their wireless service costs by an average of 15 percent through 2014.
Gartner
On average 31% of monthly mobile voice plan minutes go unused. The typical enterprise employee uses just 13% of their monthly wireless data cap.
CCMI
Let Profit Recovery Systems be your TEM Solution.
Organizations can routinely save more than 10 percent of annual telecom expenses by systematically checking carrier bills against equipment and services in use.
Gartner
Automated (electronic) processes can reduce the cost to process an invoice by 63-67 percent.
Aberdeen Group
How Telecom Expense Management Pays Off
If your company is considering a TEM solution, you're sure to ask what type of return can be expected on this investment. While TEM is a long-term solution, you can anticipate results in the first month of your implementation—which is why we stress the importance of getting a TEM program up and running fast. According to Aberdeen Group, implementations of our software are significantly faster and more efficient than "best-in-class" TEM providers. We also stress results and are proud our clients save an average 6-8 percent more than "best-in-class" TEM providers (Aberdeen Group). The benefits of TEM go well beyond the bottom line, but let's face it, numbers talk. Here are a few more statistics from the four leading analyst firms that make a clear case for implementing a TEM program today:
"If you do not have existing TEM processes in place, the return on a TEM solution investment is likely to be significant. The TEM industry suggests typical savings of at least 10%, and often nearer to 20%." Forrester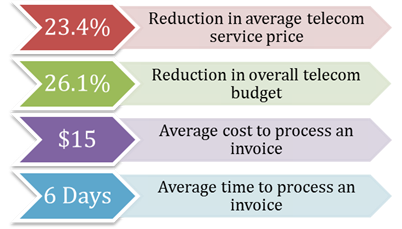 Contact Us

Request Information


Call Us: 216.691.6598


info@profitrecoverysystems.com